In our Last #10Reasons, we gave you 10 reasons on why to use an Online Scheduling Application. Today we would like to give you 10 reasons why you should use Bookitit to manage your Online Appointment Calendar.
1. Bookitit is an Online Scheduling application which can be configured to the needs of your business.
Receive Online Appointments from your customers, Set your Online Scheduling widget for your website and manage your Calendar Online. Add services, store client data and manage your Appointments with the Online Scheduling Application Bookitit. Manage your Online Appointments the way you want. Click on the image below to go to our step by step tutorial. Read more.
2. Multiple Business Tools in one application.
Bookitit does more than let you receive appointments from your website. We can manage your Calendar, Client database, Customer reports and Appointment statistics. Create and send Promotional campaigns and reminders to your customers. Bookitit is your multi-functional Business tool! Read more.
3. Try our personal support!

Bookitit is an easy to use application and will make your business more efficient. However we believe that in order to achieve this benefit personal support would make it more easy! That is why we are always just a Click, Call, Tweet or mail away! Follow us on Twitter or go to our Contact page. Would you like personal guidance during set up or more information? add your telephone number and preferred time and date for us to contact you.
4. No Website? Add a Appointment Application to your Facebook page!

Our appointment widget is available for your website and Facebook page. It will help you to reach your audience more easily!  Are you a small entrepreneur without an expensive website? Add our Online appointment application to your free Facebook page.
5. Manage your Online Calendar where ever you want!

Are you on the road? Manage your Online Calendar and Appointments with Bookitit pocket! Your Online scheduling application on your Smartphone or Tablet. Available for Android and iOS devices.
6. Applicable to Startups, SME and Large organizations.

Bookitit is applicable to any organization or business who work with appointments. We manage the appointments of huge organizations who are active in Healthcare to self imployed hairdressers who work from their home to Language schools and driving schools. The size of your business doesn't matter to use. Read more.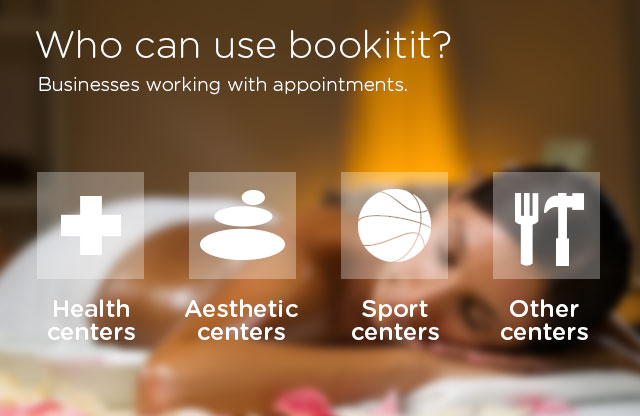 7. Success Cases
Among our customers are huge and well known organizations. Click on the image to read more about our success cases and learn that Bookitit is a reliable partner. Read more.
8. Tell us what you need!
Bookitit is developed to meet all the wishes of organizations who work with online client appointments. We update and add new features to our application on daily bases. Is our application not sufficient enough? Tell us what you need and we are able to customize your personal scheduler to your wishes. Contact us!

9. Pay for what you need!
Our pay per Calendar policy makes Bookitit attractive to any kind of organization. Do you need just one Calendar? Don't pay for a lot of things you don't need! Get 15% discount for annual payments!
10. Try be for you buy
We know it is not attractive to buy something you haven't tried! That is why we offer you a full feature 15 days trial. Click on the image to get started! Start a 15 days full feature free trial!