For some the health sector might not be the place to apply marketing to, however marketing is often mistaken with trying to get "more money" from your customers. We think that marketing for a doctor's practice helps to improve the patient's experiences while visiting your practice.
Marketing for doctors helps you to become more aware of the feelings and ideas of your patients, which eventually result into more clients visiting your practice.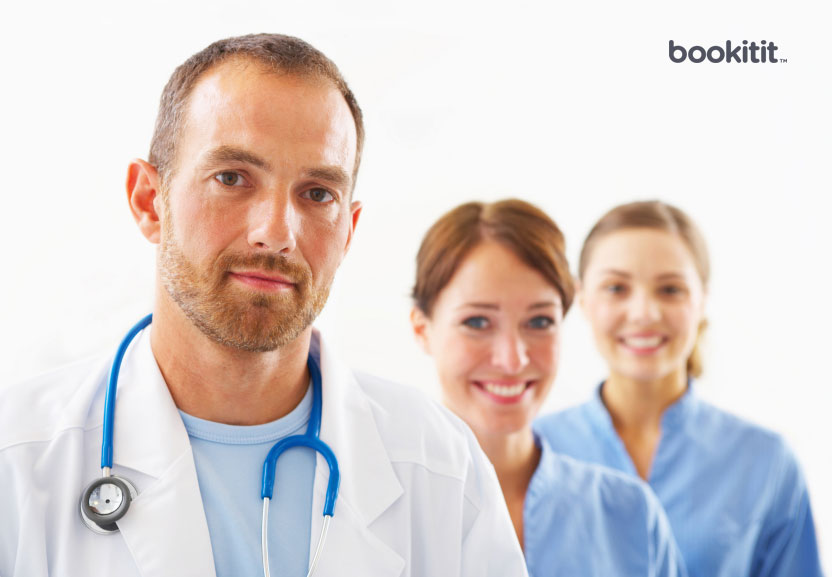 #1. Word of mouth advertising
This is the strongest form of advertisement there is. A client who comes in through word of mouth is already a convinced client. Your practice has been recommended by a person from his or her social environment. A positive recommendation from a person he trusts might be more valuable than any form of advertisement
But how to stimulate this powerful and free form of advertising?
First of all, be aware of the fact that patient-to-patient recommendations are not the only way to gain word-of-mouth recommendations. Word of mouth marketing is not only applicable on the social life of the potential client but counts for every person he trusts. This why it is so important to be active in local communities and participate in networking events. Be aware of the complimentary medical centers or specialist in your targeted area and their reputation and make sure they know you and your craftsmanship. A good reputation and genuine recommendations aren't for sale so it takes time and investment to establish a solid network in which you will be recommended by others but it is really worth the investments!
Communicate the mission with all team members of your practice. Every employee has a part in the experiences of the clients who's consulting your practice. Focus on keeping things personal with your clients and make them feel welcome and comfortable, which is a big deal considering the health issues you're dealing with.
Personal tip for medical practice: pay attention to waiting times! It is a major annoyance for your patients and with current technologies easy to improve! Find out how!
#2. What is being said?

Nowadays everything is discussed on the web, websites, recommendation platforms, blogs and forums. Stay on top of the word that is going out about your practice, Invest in time looking for customer experiences. Knowing about the things clients appreciate and the things they dislike helps you to improve client experiences.
Check out this infographic about Internet behavior relating health issues.
Google yourself and see what it brings up. This feedback is great way to improve your customer satisfaction.
#3. Online marketing for doctors
Nowadays a health practice can't be without a website. It is normal for your patients to do research before they arrive at your practice. Think carefully about the content of your website, clients will search for clinical experiences, specializations and medical insurance coverage. Most likely your website will attract two types to of visitors (b2b contacts disregarded), Clients who know you and new potential clients. Make sure your website has a good balance between these type of visitors. Your website has to leave a great first impression for the new clients but also have to offer ease for existing clients.
Our suggestion is to give a personal, warm and open appearance to your website, make sure contact information and practice directions are easy accessible. Are you a local business? Put some pictures on your website, clients like to know who they're dealing with.
Read more about how to create a good website for your business. Go to Blog!
#4. Optimize your website!
To get the most out of your website, it is important that people who are looking for a doctors practice can find you, that is why website optimization is so important. To show up in search results you have to focus on SEO (Search Engine Optimization). Think of the keywords your potential clients might be looking for and use these words while writing your website. Here some tips to take into account when improving your website for search engines.
– Search engines prefer pages with only one subject. (Each doctor or specialist a page)
– Texts in images don't count but don't forget to add keywords in the titles of the images
– Set page titles and page descriptions for SEO
– Use keywords in the page URL
Social media is always a tricky subject in the health sector. Keeping personal lives and business separate is a must in this business. How ever social media contributes in keeping patients involved in your practice and also stimulates the SEO of your website. Use the social channels for health education and always consider your actions on social media. Communication in a personal way (until a certain level) gives your patients a positive feeling towards your practice. We suggest that you do a bit of case studies before you start using social media as a tool for your practice. Search for health practices who use social media and learn from their online behavior.
See this 8 tips to improve your Wix website! (also applicable to other website hosts) click here!
#5. Local media

Although the year is 2014, we don't think you should leave out your local media from your marketing campaign. By leaving out traditional promotional methods you might miss out on target groups who are not as gifted with technology as we are ((65+) no offense). Use traditional local newspapers and other local media that reach your offline target groups. Also look for "new" local media like local search engines, community pages and county information pages. Being present or mentioned on these pages have tremendous impact on your brand awareness.
And of course, never underestimate the power of sponsoring or being present as a doctor at local events or sport clubs.
#6. Payed promotions

Back to online promotion, Payed promotion options can save you the troubles of spending hours on page writing and improving your website to climb in those search results. Most used and famous payed promotional techniques are Google Adwords and Facebook adds. It is an investment which will increase brand-awareness rapidly, however according to us it depends on the size, specialization and location of your practice if PPC (pay-per-click)  is a wise investment. Things to think about while considering payed online promotions are: Roi (return on investment), How do clients get to my practice (referrals or self-referred patients), size of your target group and their geographic location.
#7. Promotional material
Never let your patients leave your practice empty-handed. Brochures are a great way to give health education to your patients and stimulates word-of-mouth recommendations.