More and more hairdressers and beauty centers offer their customers the possibility to book online appointments through their website or Facebook page by using the online Appointment and Scheduling Application Bookitit.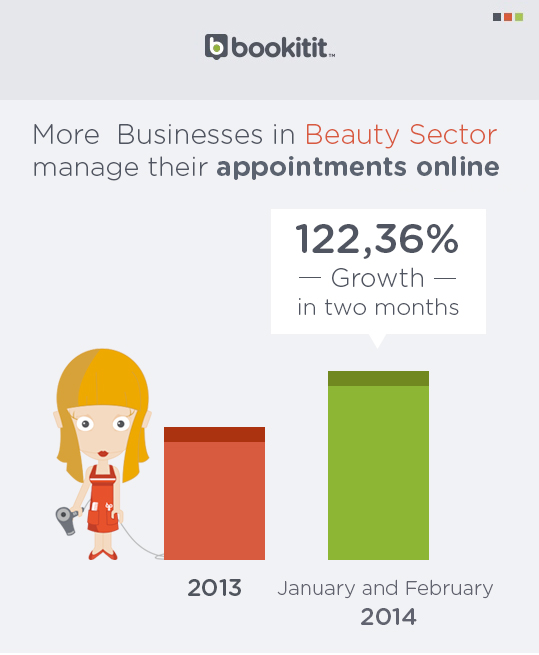 Since the launch, Bookitit has been able to meet the needs of businesses in many sectors. Nowadays the beauty sector has been one of the sectors with the highest demand for the ease of online scheduling. This growing demand has been tangible for Bookitit with new clients and new trial subscriptions on a daily bases.
In the first two months of 2014 Bookitit has increased its customer database by 122.36% with clients in the beauty sector. Mainly hairdressers and Beauty centers see the advantages of offering their clients the possibility of making online appointments. Your clients are able to make an appointment on their mobile phone, tablet or any device that is connected to the world wide web. You are able to integrate our widget easily to your website and even to your Facebook page. This convenience towards customers stimulates an increase of appointments and customer satisfaction.
Hairdressers and professionals in the beauty sector, who are using Bookitit on a daily bases confirm it is a very easy to use application, Besides that the application allows you to manage your Calendar, it will also create your Online Customer database in one online application. Another asset of using Bookitit as your Online appointment application is the ease for customers. Your customers are able to make an appointment whenever they want. Your Online Appointment widget is 24/7 available for your customers. Some of the leading beauty centers who used Bookitit from the start have experienced a growth of over 200% in appointments by offering the ease of making online appointments to their customers. These numbers confirm the ease and growth that Bookitit could bring to your business.
Besides the benefits for your own clients, Bookitit also increases internal efficiency. By using Bookitit as your Online Calendar, You are able to improve time management and streamline the use of your equipment and resources and it will reduce waiting time for your clients. This will result into internal efficiency, decreasing costs and satisfied customers. According to us these are benefits that are worth considering, right?
Are you a professional in the beauty business and considering to try online scheduling to improve you business, Give Bookitit a try and let us show you how our online appointment application is able to improve your business. Try our Application and all of its features 15 days for free without any obligation and see how the ease of online scheduling will increase the amount of appointments.
Would you like more information? Don't hesitate to contact us or follow us on Twitter.