We present you a new feature in our Online Scheduling and appointment application Bookitit.
The list view!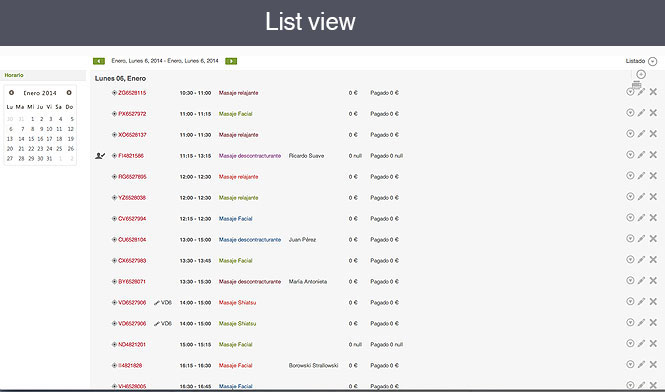 The new feature shows you in a glance how your work day is going to be like, We have listed your appointments in order of appearance. If you are a team leader you can easily see to whom the Calendar and Appointment belongs, Who the client is and you will have is contact information always available.
The list view lists your Appointment in order of commencement, ordered by day. The red code in front of the appointment is the appointment locater, it helps you to locate your appointments at all time. All appointments are colored by the calendar they belong to. This way you know to whom which appointment belongs to. You can indicate if a client shows up for his appointment, a sign will appear in front of the appointment indicator.
The 3 icons on the right allow you to edit the appointments which are made online. The arrow pointing down within the circle gives you access to all appointment details and customer information. The pencil in the middle allows you to edit all appointment details and add comments to the Appointment. The X can be used whenever you like to cancel an appointment. In the upper right side of the list view, you will find the Print icon. By clicking on the print icon you can print all appointments in the list view per day.
By introducing the new way of visualizing your calendar with our list view, we haven't replaced the other ways of visualizing your Calendar. You can change the way your calendar is displayed at any time. Now we have four options to display your agenda. It is up to you to pick the one that works best for you and your business! Read more about our 4 ways of Calendar views.
Try our new Calendar view and tell us what you think on Twitter! We love to hear your input. Our goal is to keep on developing our Online Scheduling and Appointment application according to the experiences of our day to day users. This way we want to develop and improve a Business Tool which fits all your Businesses needs.