Mercedes-Benz Spain uses The Online Scheduling Application Bookitit as the engine behind their Service and Repair. This way they offer the service and comfort to their customers that fits the brand. So lets see what the advantages are of using Bookitit as your Online Scheduler. Click on the Image to see the Online Appointment app Bookitit (Spanish Version) on the web page of Mercedes-Benz Spain.
Mercedes-Benz Spain offers the possibility to its customers to make service appointments on their website. The phone is replaced by an easy-to-use web-based application which will improve Customer satisfaction. Lets see how it works.
Your Customers are able to make appointments 24 hours a day. You are not dependent on phone calls between 9 to 5 anymore. When a client wants to make a service appointment, he or she will enter the Online scheduling widget on your website or Facebook page and can select a time and date which suits the customer best. The available times for customers are synchronized with availability of your online calendar, so no more double bookings.
Our online appointment application allows you to be more efficient. If we use the Mercedes-Benz Spain case as an example, They ask about the nature of the appointment: Is it a service check up, Reparation or another service. This way you are able to prepare the reparation or service, this will improve delivery time and customer satisfaction! See how a online scheduling application could look loke on your website, click on the image below to enlarge.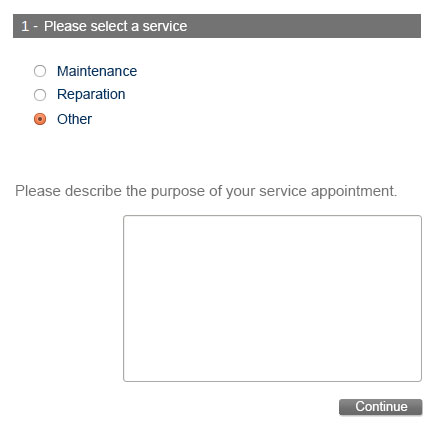 Bookitit is not only your Online Scheduling Application, we can do more for you!
Every client that makes an appointment will enter contact information, which can be adjusted to your wishes. This information will be stored automatically into your customer database. When they will apply for a second appointment all they have to do is login and a new appointment can be made in just a matter of seconds. The ease for customers will create customer loyalty and you are able to retrieve client information and Appointment history. All these features are easy to use and adaptable to the needs of your Business. Check out which features the Online Scheduling application Bookitit has to offer.
Don't hesitate and offer the same ease to customers as Mercedes-Benz Spain does! Give us a try and click here for a 15 days full feature trial of Bookitit!
Would you like more information, go to our Contact page or follow us on Twitter