To get a view of all the clients of your business, access from the Bookitit Control Panel to Client List. You will see a list with all the clients that have registered online or that you have entered from the Booking Calendar.
All clients in the list will appear with certain characteristics of their own: whether the client has web access (i.e. can book online) or is blocked, their email address, phone number and name. To add a new client, click on the green "New Client" button in the upper left corner of the screen.
In the new screen you will have to enter all the information of the new customer:
To start, select, if you want your customer to have access to book online, the "Customer with web access" checkbox. If you check this box you will be able to select the second one if you want to send an email to the customer with all his account details.
Next, enter your e-mail address, your telephone number and your name. If you wish to expand the customer's fields, such as ID card, passport, gender, membership number, etc., please contact us at info@bookitit.com.
Click save and check that the customer has been added to the customer list on the previous page.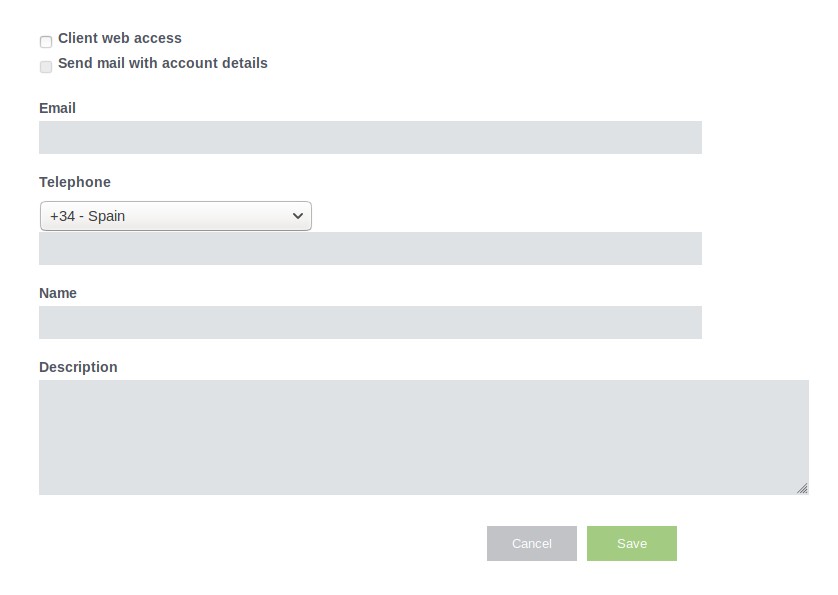 In the list, each customer has different actions, including editing. If you want to edit the client's data, click on the first icon to the right of each client. When you edit a client, you can change its password. To do this, check the "change password" box and enter the new password for online appointments in the first box and repeat it in the second box.