As for notifications and appointment reminders, access from the Control Panel to My Agendas. From the list of agendas, access the notification settings by clicking on the second icon next to each agenda.
It will direct you to a new screen with various settings about notifications:
Check the first box if you agree to send notifications even though the appointment has already expired. That is, if the appointment has taken place without prior booking, but you want to have the client's contact details, the appointment details and you want the client to receive the notifications corresponding to his appointment, you can create the appointment from the Booking Calendar. If you have checked this option, even if the appointment has taken place in the past, the notifications will still be sent.
You will then see different settings grouped into different categories. In addition, each setting can be activated for either SMS or email, or both.
All groups contain the same notification settings, only the notification recipient changes.
In this way, select the checkboxes of the notification settings you want, depending on the recipient of the notification. The recipients to whom you have the option to send notifications are: to My Center (email or phone of the Bookitit account administrator found in My Center), to the Agenda (email or phone configured in the edition of the Agenda) and to the Client (user who has made the booking).
The options are as follows:
Customer makes an appointment
An appointment is added from the calendar
Change an appointment from the calendar
The agenda / My center confirms an appointment
The agenda / My center refuses to accept an appointment
Customer deletes an appointment
Below this list, you will have the option to configure the reminders. Thus, you can set the time in advance to send the reminder, both to the client and to the agenda.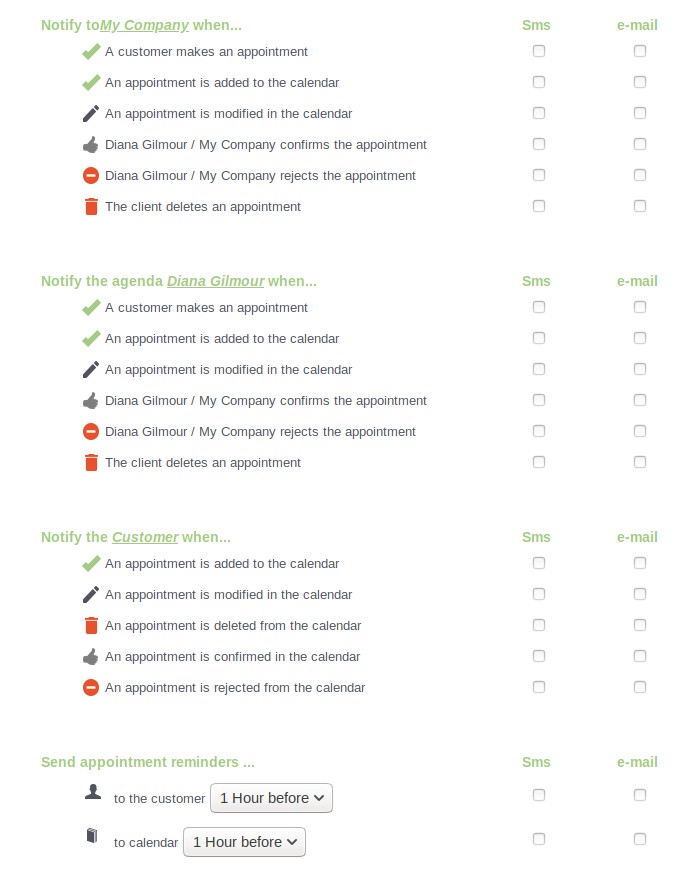 You can then export a list to Excel of all appointments for the next day. It can be sent to My Center or to the Agenda. In the same way, you can schedule the sending of a list with the appointments of the whole week on the day of your choice. It can also be sent to My Center or to the Agenda.
To finalize the configuration of the notifications, you can check the available slots. That is, you have the option to set the day on which you will be notified the number of days in a row that you want to be without available slots. This option can also be sent to the administrator or to the agenda. This is a very useful configuration to anticipate the level of work on these days.